WHAT WE DO
We unite to strengthen our voice in decisions that affect our communities by taking action on issues such poor housing, failing schools, barriers to citizenship, unjust working conditions, and costly health care that put our neighborhoods at risk. We work together for a just society.
Annual Micah Awards Dinner
Honoring Micah In Community Action Heroes
If you belong to a GSOP member organization, we welcome you to celebrate our work. If you are a guest, we welcome you to learn about our community organizing approach to improving the lives of individuals and working for change in our cities and towns, our state, and our nation.
MICAH 6:8

He has shown you, O mortal, what is good. And what does the LORD require of you? To act justly and to love mercy and to walk humbly with your God.?
We will tell our story and, most importantly, the stories of the people we honor with our Micah Awards
Some recent accomplishments include the following:
Tenant Rights
GSOP has been working with residents of the Manchester Housing Authority's Elmwood Gardens to build community and solve local problems. More than 35 residents have graduated from a GSOP leadership training class and they have formed a Tenant Leadership Group. The Elmwood tenant leaders sponsor community walks through the neighborhood twice a week and meet every Thursday morning to brainstorm solutions to community issues and fellowship together
GSOP and the American Friends Service Committee are committed to helping New Hampshire's renters have a voice! We assist tenants with filing housing code complaints and notifying landlords of problem buildings. We are eager to bring tenants rights trainings to communities throughout the state.
Young Organizer United (Y.O.U.)
is a group of mostly immigrant and refugee students attending high school in Manchester. Y.O.U. believes that student voice is crucial in shaping and implementing policies that concern their education. We also believe that immigrant and refugee parents will support their children's education ambitions and will take action to increase their children's educational opportunities, including supporting student centered and non-traditional learning, when asked to do so by their children and when given clear avenues for action through effective community organizing.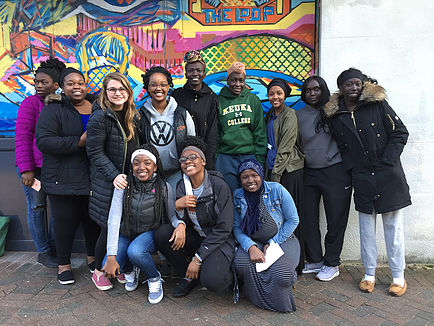 Y.O.U. is the only organized group of students focused on addressing systemic education issues in New Hampshire. Y.O.U. is convened by the Granite State Organizing Project.
Transportation
GSOP empowered a group of Souhegan Valley residents to create an affordable, wheelchair-accessible transportation service that provides rides to any Amherst, Brookline, Hollis, or Milford resident in need of transportation to medical appointments, to social service appointments and for local shopping activities within the designated service area. SVR is a demand-response, dial-a-ride service. As of January 2011, the Souhegan Valley Rides (SVR) community transit bus service has provided over 5000 rides! The Souhegan Valley Transportation Collaborative (SVTC) invites GSOP members to add their energy and voice to efforts underway to make SVR as sustainable community resource in the Souhegan Valley
Quality Affordable and Accessible Childcare in NH
Granite State Organizing Project has taken a focus on childcare issues and the way they affect the young families in our state. With issues ranging from affordability, accessibility for children with special needs and the lack of flexibility of hours, GSOP is determined to make sure the voices of our young working families are heard.